Low-Key Savage Sunday Teaser Trailer from Velocity Productions Ltd. on Vimeo.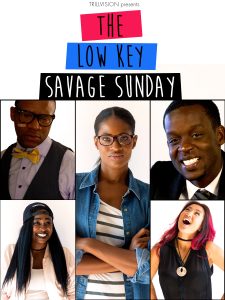 THE LOW KEY SAVAGE SUNDAY
BY DAVID VELO STEWART
General Information: Neo Hip Hop, Comedy & Drama – Ages 14 and up. – 80 Minutes
Synopsis: The Low Key Savage Sunday is about a young independent sista who meets a highly ambitious brotha online, but their blind date goes awry when her crazy, jealous ex-boyfrend steals her car which leaves her at the mercy of her overly dramatic friends to possibly connect her with true love.
Cast:Jessica Graie, Dot McDonald, Carly Sunae, Q-Nice, Raymond Karago, Alison Law, Gary Thomas, Anthony Rucker, EbonyFaith Williams, Sophia Easley, Zach Bennett, Jess Will & Mic Familiar
Tagline: Real homies never give up on Real homies
To watch the trailer please Click Here
Help us finish and market this film:
Give $1.00 and you will receive a "Special Thanks" on the film's webiste page.
Give $10.00 and you will receive website recognition and a "Thank You" credit on the film's mixtape.  In addition to an advanced copy of the mixtape.
Give $25.00 and you will receive all of the above perks and a digital copy of the film.
If you would like to donate via credit card or have questions, please email us at Velocity@Trillvision.com
Velocity Productions would Like to thank the following for their support:
Jeannine Warren
Tiffany Saxon
Aviana Easter
Kim Pinkard
Carmen Wilson
Steve Wilson
William Anderson
Ashley Torreblanca
Ivan Torreblanca
Comfort LA
The Bronson Bar
HHBmedia.com